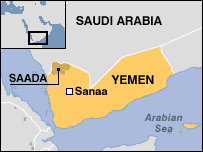 Five Yemeni Citizens Killed by a Saudi Raid in Saada
Saada | 29 October | Yamanyoon
At least five Yemeni civilians have been killed today Saturday by a Saudi American raid targeting a citizen's car in Shada district, Saada province.
An air launched by the US-backed Saudi coalition aimed at a citizen's car in the region of Bni Sayah in Shada district, killing five civilians, including a child, local source confirms.
Earlier today, the coalition waged a series of air raids on civilian houses located in Salu district, Taiz, committing a new massacre against Yemeni people in Razh district that resulted in seven killed and another six wounded.