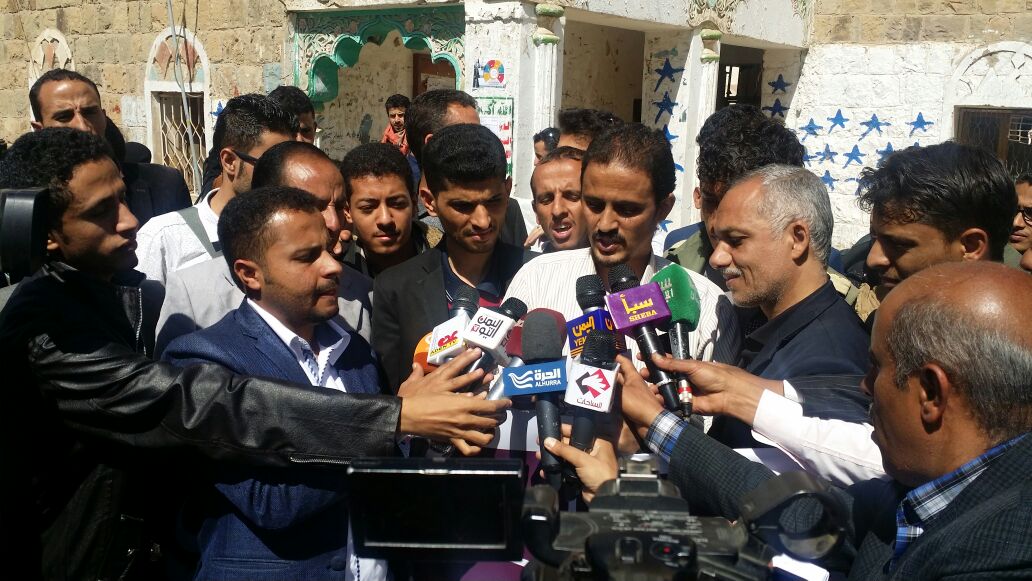 Yemeni Journalists Protest US-Backed Saudi Killing of Journalists
Sana'a | November 2 | Yamanyoon
Yemeni Media Union protested today Wednesday in the capital Sana'a on the occasion of the world's day to end impunity, where they called upon the liberals of the world to highlight the war crimes committed by the US-backed Saudi coalition, which included the Yemeni press in its targets.
Various Yemeni journalists denounced the international silence that encouraged the Saudi coalition to perpetrate more war crimes in Yemen.
The Yemeni journalists' demonstration issued a statement stating that the Saudi American raids have been targeting all sectors of the Yemeni society. The coalition has directly targeted the Yemeni press to silence the truth and kill it morally. Saudi American air raids also aimed at Yemeni media when they killed, demolished and threatened media organizations and journalists.
At least 30 journalists have been killed and 6 others wounded in only Al Kobra massacre, where the coalition bombarded a funeral procession resulting in the death and injury of 700 Yemeni civilians.
Moreover, US-backed Saudi coalition deliberately blocked Yemeni channels and newspapers on social networks, statement says.
The statement also demanded the cease of the Saudi American aggression and the deliberate murder of journalists, the lifting of the air, land and sea blockade on Yemen and the formation of a neutral international commission of inquiry to investigate the constant crimes committed by the US-backed Saudi coalition against Yemeni civilians as well as journalists.