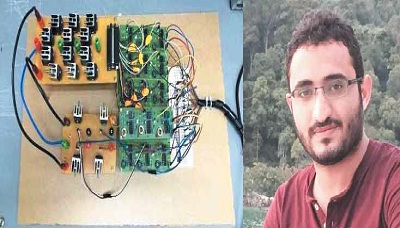 Novembr5|Yamanyoon
The Yemeni student "Saddam Alnmar" who attends a doctorate in electrical engineering at the University of Malaya (UM), Malaysia, got a patent for his invention energy converter (inverter) is used in renewable energy sources, especially solar energy.
And works converter to convert DC power to AC very high efficiency up to 98% has been demonstrated this efficiency number of experiments were verified results stunning, as it features not fit on inductive or capacitors files, the fact that many problems in the balance of electric driving force that will Decrease the shelf life of electrical appliances.
He pointed out that this device is a high competence highest standard in efficiency ratio Tstrha technology from the date of this day as it is the least expensive compared to all similar devices on the market also has other privileges the most important of the length of the life span of the device times the age of existing devices on the market.
Saddam won a scholarship to study for a doctorate from the University of Malaya (UM), which is the first university in Malaysia and globally ranked (133) and complete at the moment Ph.D. second level and works on advanced research in the field of renewable energy.