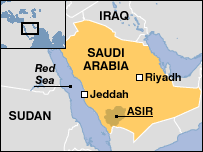 Yemeni Artillery Force Hits Saudi Soldier Groupings in Asir
Asir | November 26 | Yamanyoon
The artillery force of the Yemeni army and popular committees targeted groupings of Saudi soldiers in Alab located in Asir, achieving direct hits.
In the same context, about 4 Saudi soldiers were killed yesterday in a sniping operation carried out by units of the Yemeni snipe force in Alab and Maltah military site, Asir.
These military operations function as a response to the constant war crimes committed by the US-backed Saudi coalition against Yemeni civilians since March 26 of 2015.