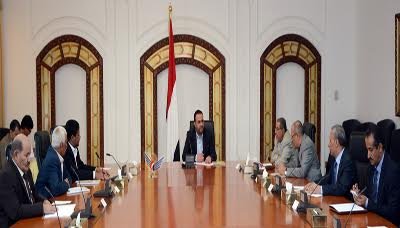 The Formation of the New Yemeni Government
Sana'a / November 28 / Yamanyoon
The supreme political court approved the government formation in its extraordinary meeting held today in Sana'a, chaired by president Saleh Ali Alsmad with the presence of the Vice President of the Council, Dr. Qasim Labuza and Chairman of the National Rescue Government, Dr. Abdul Aziz Bin Habtoor.
The president and members of the Supreme Political Council praised the structure of the government, which included various sects and different national figures to confront the war crimes committed by the US-backed Saudi coalition against Yemeni civilians.
The meeting stressed that the government, which was formed in such difficult conditions experienced by Yemen, was formed for the aim of arranging the internal situation and to face the ongoing aggression economically, militarily and politically.
The Council noted that this comes under the intransigence of the aggression not agreeing upon a national solution that is based on the national partnership of all sects, avoiding more bloodshed and destruction.
Political Council also confirmed that the formation of the new Yemeni government took place to promote peace and work in the context of national reconciliation, according to the decision of the general amnesty .. stating that the aggression holds full responsibility for the current situation as their political intransigence prevents them from choosing the peaceful resolution.
Dr. Abdul Aziz Bin Habtoor thanked the chairman and members of the Supreme Political Council for their efforts into forming the new government.
Habtoor also affirmed that this government will spare no efforts to meet the aspirations of the masses of the Yemeni people and to find appropriate solutions for the dilemmas existing because of the continued war waged by the US-backed Saudi coalition.