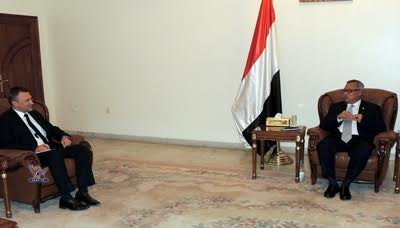 PM meets Russian Chargé d'affaires in Yemen
Pursuits / December 17 / Yamanyoon 
Prime Minister Abdulaziz bin Habtoor met on Saturday in Sana'a with Russian Chargé d'affaires in Yemen on the occasion of his recent appointment.
The meeting involved the discussion of the cooperation relations between the two friendly countries and the situation in Yemen in light of the ongoing Saudi aggression and blockade on Yemen.
The talks touched upon the reliable role of the Russian friends in supporting peace, stopping the war and lifting the imposed blockade.
Bin Habtoor affirmed that Yemen was and still with peace and with any sincere effort to stop the aggression and lift the unjust blockade.
For the Russian part, he confirmed that his country supports all efforts and initiatives to stop the war and the lift the siege and bring peace to all Yemenis.
He pointed out that the peaceful option is the only way to bringing peace and alleviating the suffering of the people of Yemen.