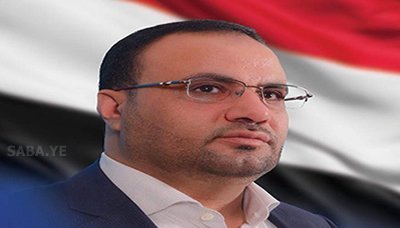 December 31 / Yamanyoon 
President of the Supreme Political Council, Saleh Al-Sammad, sent  on Saturday a congratulatory letter to Sultan of the Sultanate of Oman, Qaboos bin Said, on the occasion of awarding him the Arab Human Rights Award of 2016.
Sultan Qaboos has been honored with the Arab Human Rights Award 2016 by the Arab-European Center of Human Rights for his great efforts and noble contributions in the field of protecting and supporting human rights on local, regional and international levels.
President Al-Sammad expressed the congratulations of the Supreme Political Council, the National Salvation Government and Yemeni people to the Sultan Qaboos.
Al-Sammed pointed out that this honoring came in recognition of the Sultan's wisdom in pursuing the peaceful dialogue as a basic principle in dealing with the countries of the world.
He highly valued the position of Sultan Qaboos toward the Saudi American aggression on Yemen, and the blockade imposed on Yemen, praising the good efforts exerted by the Sultanate of Oman to resolve all disputes in the region through peaceful dialogue.
Concluding his letter, Al-Sammad wished good health and wellness to Sultan Qaboos in the new Year of 2017 and more prosperity and stability to the brotherly people of Oman.