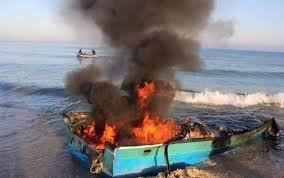 At Least 15 Killed, Including Women, by Saudi American Raids
January 11 / Yamanyoon
At least 15 Yemeni civilians have been killed on Wednesday, including women, after the Saudi American aggression targeted a boat transferring citizens from Djibouti to Mocka coast, western Taiz.
Fighter jets of the Saudi-led coalition waged six air raids on sites in the regions of Salif and Hali in Hodeidah governorate, western Yemen. In addition, two other raids hit Serwah district in Marib at night time.
On the other hand, the Yemeni army and popular committees targeted groupings of Saudi mercenaries in the region of Al Aqrodh and Jabl Alkhdr in Jabl Habashi district, Taiz.
Moreover, the missile force bombarded Saudi mercenary gatherings east of Kahboub in Lahj governorate using a number of Katyusha missiles.
These military operations function as a response to the constant war crimes committed by the US-backed Saudi coalition against Yemeni civilians since March 26 of 2015.