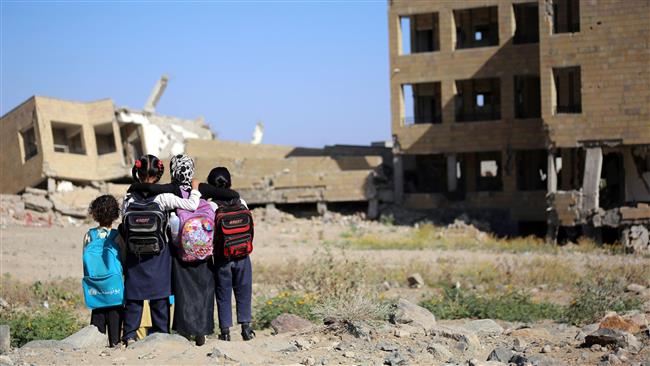 UNICEF : Yemeni children Paying 'heaviest price' as Saudi war Turns Second Years
March 28 | Yamanyoon
The UN International Children's Emergency Fund (UNICEF) highlighted the suffering of the Yemeni kids in a report titled "Falling through the Cracks," which was released on Monday to mark the second anniversary of the deadly Saudi offensive on the impoverished country.
"As the war in Yemen completes two years, children continue to pay the heaviest price while families' coping mechanisms are stretched to their limit," the report read.
Almost 10 million Yemeni children are currently in need of humanitarian assistance while some 2.2 million of them are acutely malnourished, it further said, adding that quite half a million kids suffer from severe acute malnutrition, up by 200 percent since 2014.
"Malnourished children across Yemen are teetering between life and death…. Cemeteries are filling up with small unmarked graves, the deaths of children unreported to authorities, their suffering invisible to the world," the UNICEF report said.
It also warned that over 17 million people, which equals to 65 percent of all Yemeni households, are food insecure, meaning that they cannot afford feeding themselves and their children adequately.
Nearly 80 percent of Yemeni families are in debt or are borrowing money just to feed their kids, it added.
"The poorest country in the Middle East, Yemen is now the largest food security emergency in the world," the report warned, estimating that at least 7.3 million Yemenis need emergency food assistance to survive.