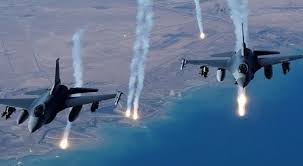 New Saudi Aggression Airstrikes in Several Provinces
Yamanyoon- 18 Nov 2017
Saudi aggression has conducted a series of airstrikes on Yemeni provinces led to the death of 27 civilians and wounding seven others, including a child during the past hours.
17 citizens have been killed in an air raid on a commercial store in Al-Jarr district in Abas province, Hajjah province, a military source said.
Meanwhile, ten civilians were also killed and six others were injured when a Suadi aggression Khamis Al-Aa'adat district of Al-Zahra , Hodeidah Governorate.
The source pointed out that the aggression Apache attack has targeted the center of  Jumana district in Hodeidah, and launched two raids on the area Almosaj same district.
In Saada, the Saudi aggression launched five raids on Jabal Shaer and the Al-Sobhan area of ​​Baqem district. The attack targeted a Saudi missile and artillery area in Al-Ghour district of Ghamr border and various areas of Razih district, the source added.
Also, the aggression warplanes have launched five raids on Taiz, , east of Camp Khaled, and launched a raid on  Mawiya.