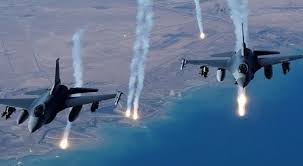 Saudi Agrression Warplanes Target a Number of Yemeni provinces 
Yamanyoon- 19 Nov 2017
The US-Saudi aggression warplanes have targeted the provinces of Taiz, Hajjah, Sanaa, Saada and Najran with 31 raids during the past hours.
The warplanes conducted two airstrikes in the north Mukha district and a raid south Mafraq al-Mukha and six raids south of the camp Khaled in Taiz, a military source said.
Moreover, the Saudi aggression warplanes launched three raids on the Abs and 12 raids on  Harad and Midi in Hajja province, and launched a raid on Nahm in Sana'a, the source added.
Meanwhile, a rocket bombardment and a Saudi artillery targeted the Ghor district and the different areas of Razih and Menba border.
According to the source, the warplanes launched four raids on Al-Mellayil district of Kataf in Saada governorate and two rockets on Al-Shorfa site in Najran.