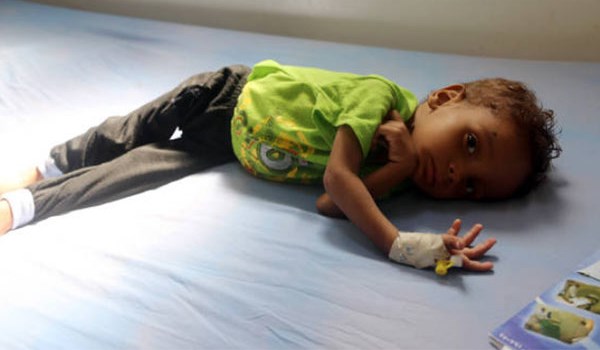 Relief Group Says Siege Drives 500 Yemen Children into Malnutrition
Yamanyoon- 23 Nov 2017
A New-York based relief group urged an end to the continuing blockade that serves as a "collective punishment" of Yemenis and risks driving 500 children into malnutrition every week.
The International Rescue Committee said the closure of Yemeni ports by the Saudi-led coalition as part of its fight against the country creates "humanitarian misery for millions of Yemenis," Business Insider reported.
The coalition announced that it's lifting the blockade after initially tightening it following a missile attack on Riyadh.
"Sanctions and inspections should not be used as weapons of war," the group said in a statement.
The IRC condemned the international community, saying its silence "is a disgrace and is enabling what could be collective punishment."
Each week, the group said, 500 children join hundreds of thousands suffering from malnutrition.
Saudi Arabia has been incessantly pounding Yemen since March 2015 in an attempt to crush the Ansarullah movement and reinstate former President Abd Rabbuh Mansur Hadi, who is a staunch ally of the Riyadh regime, which has failed to fulfill the objectives of its campaign.
More than 15,000 people have been killed since the onset of the campaign. Much of the Arabian Peninsula country's infrastructure, including hospitals, schools and factories, has been reduced to rubble due to the war.
The International Committee of the Red Cross (ICRC) has said that the Saudi blockade has left five cities in Yemen running out of clean water due to a halt in the import of fuel needed for pumping and sanitation, warning of "a renewed cholera outbreak."
Some 2,100 people have died of cholera since April as hospitals struggle to secure basic supplies across the country. The epidemic had been on the wane for weeks in Yemen, although new cases are still running at around 2,600 per day.