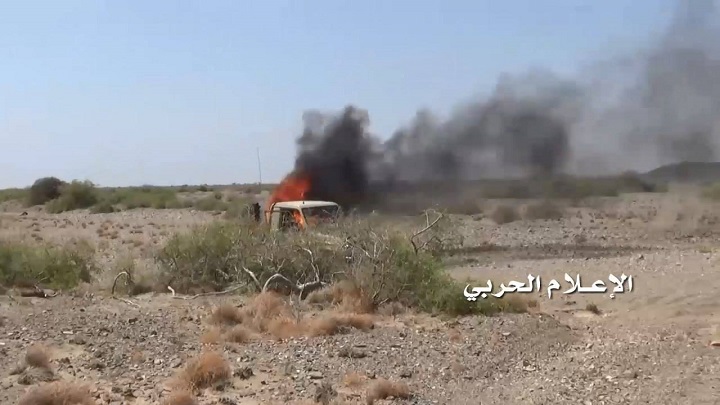 Dozens of Saudi Mercenaries Killed in Yemen
Yamanyoon- 6 Dec 2017
The forces of Yemen's army and Popular Committees, in retaliatory attacks against the Saudi-led collation forces, managed to kill dozens of the Riyadh regime's mercenaries in the Arabian Peninsula country's provinces of Hajjah and al-Jawf.
In the Yemen forces' attack on fugitive former President Abd Rabbuh Mansour Hadi positions south of Midi region in northwestern province of Hajjah, tens of mercenaries were killed or injured, Al-Mayadeen television channel quoted military sources as saying.
They targeted the gatherings of Sudanese troops and Hadi's mercenaries in south and north of midi border region with artillery and five Zalzal-1 missiles.
In another development, the Yemeni army and Popular Committees pounded Hadi mercenaries in al-Hazm, the capital of al-Jawf province, with Katyusha missiles, which resulted in deaths of several mercenaries.
Also, a number of Hadi supporters were killed following the Yemeni forces' attack on al-Baydha hill and al-Salan military base in al-Masloub district in al-Jawf province.
Meantime, Saudi warplanes targeted several areas across Yemen's capital, Sana'a, including the former Yemeni president Ali Abdullah Saleh's residential building and the General People's Congress headquarters.
The Saudi fighter jets pounded areas in Herz and Midi in Hajjah province 11 times.
Saudis have stepped up attacks on Yemen, in particular Sana'a, following the death of their ally, Saleh.
Saleh was killed after betraying the Yemeni revolution and allying with the Saudi-led coalition, which has been pounding the country for months.
Yemen's defenseless people have been under massive attacks by the Saudi-led coalition for the past three years but Riyadh has reached none of its objectives in Yemen so far.
Over 14,000 Yemenis, including thousands of women and children, have lost their lives in the deadly military campaign.