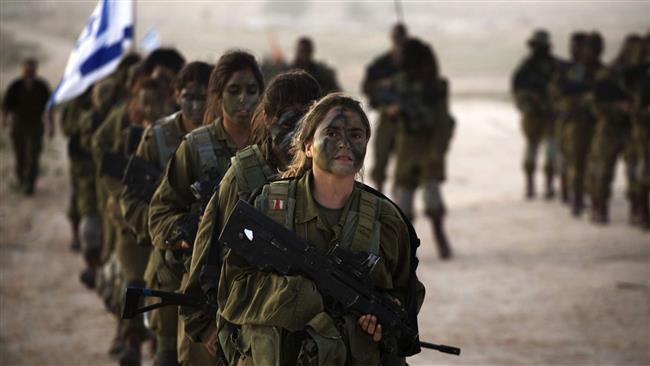 Reports of sexual offenses rise by 10 percent in Israeli army
Yamanyoon- 12 Dec 2017
The number of reported sexual assaults in Israeli army has increased every years since 2012, and latest figures show that there has been a 10 percent increase in the number of sexual complaints filed by Israeli soldiers this year.
According to a report published by Arabic-language Arabi 21 online newspaper, the rise in the number of reported sexual harassment cases could be attributed to growing awareness about the menace within Israel's military forces.
The report added that the Israeli army plans to launch a computerized educational program in order to prevent sexual harassment.
All those who serve in the Israeli armed forces, from corporals to the chief of staff, will be assessed by the program at least once every year. The program will soon be installed on the computers of the army, and an application is set to be developed for cell phones in the near future, Arabi 21 noted.
It further noted that soldiers will be asked to record their personal details and pass a test to examine their comprehension. Those who score less than 65 will be asked to go through the process again.
Earlier this year, an internal Israeli army survey found that one in six women soldiers had been sexually harassed during their military service.
While 15.6 percent of respondents reported facing such behavior, the true incidence of harmful sexual behavior within the Israeli military is in fact much higher.
The figures, which relate to 2016, further exposed that 60 percent of female soldiers and officers, who took part in the survey, said there was a sexualized atmosphere in their units.
They described soldiers or commanders frequently telling sexual jokes and stories, making hurtful sexual comments about them or sharing pornographic images.
A similar proportion of respondents, 57 percent, reported receiving hurtful sexual comments.
A total of 35 percent of women who answered the questionnaire said they were touched or subjected to sexual gestures, leers or winks; 12 percent said a fellow soldier or officer had exposed himself in a way that embarrassed the respondent; and 5 percent reported being offered some reward in return for sex.
In addition, three percent said they had been threatened or otherwise treated inappropriately for refusing sex, while one percent reported being the victim of a sexual assault or attempted assault.
Source: Reuters News