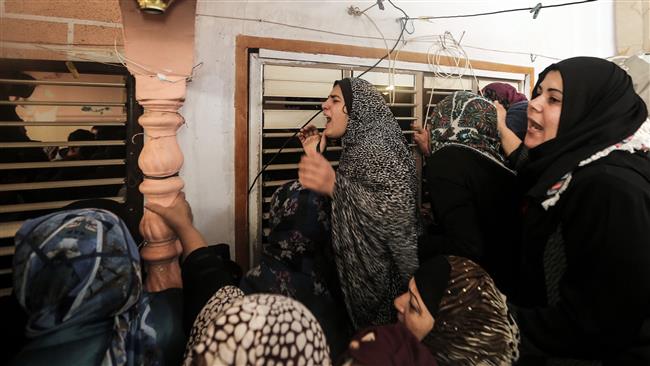 Palestinian youth shot by Israeli forces in Gaza dies of wounds
Yamanyoon- Dec 30, 2017
A Palestinian youth in the Israeli-besieged Gaza has died of the wounds he sustained when he was shot by Israeli forces during a recent protest rally.
The 20-year-old Jamal Muslih, who lived in the al-Bureij refugee camp in central Gaza, passed away on Saturday after being shot and seriously injured during a Friday protest against the United States' recognition of Jerusalem al-Quds as Israel's "capital," Gaza Ministry of Health spokesman Ashraf al-Qidra said.
The latest casualty raised to 13 the number of the Palestinians killed by Israeli regime forces since US President Donald Trump announced on December 6 that his government would recognize Jerusalem al-Quds as the regime's "capital" and subsequently move Washington's embassy there from Tel Aviv.
More than 50 Palestinians were injured during Friday clashes in Gaza as part of a "Day of Rage" protest over Trump's announcement. That protest had been called by Gaza-based resistance groups Hamas and the Islamic Jihad.
The Palestinian Health Ministry has said at least 16 protesters were also wounded in the occupied West Bank when Israeli forces fired live rounds during demonstrations, while others were struck with rubber-coated bullets.
Jerusalem al-Quds is at the core of the Israeli-Palestinian conflict, with Palestinians hoping that the eastern part of the city would eventually serve as the capital of a future independent Palestinian state.
Trump's declaration of his intent to move the US embassy to al-Quds has generated protest rallies in the occupied Palestinian territories and across the globe, including in Iran, Turkey, Egypt, Jordan, Tunisia, Algeria, Iraq, and Morocco.
On December 21, the United Nations General Assembly overwhelmingly voted in favor of a resolution that calls on Washington to withdraw its controversial recognition of al-Quds as the Israeli "capital."