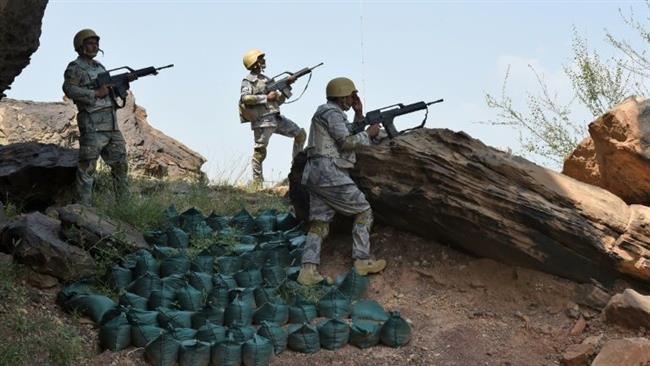 Yemeni army, allies killed nearly 400 Saudi soldiers, 894 mercenaries in 2017: Report
Yamanyoon- Jan 3, 2018
Yemeni army soldiers, backed by allied fighters from the Popular Committees, killed nearly 400 Saudi soldiers and hundreds of Saudi-backed militiamen loyal to Yemen's resigned president, Abd Rabbuh Mansur Hadi, last year in retaliation for the Riyadh regime's deadly military campaign against the crisis-hit country.   
The Yemeni Joint Operations Command announced in a statement on Wednesday that Yemeni forces shot and killed 399 soldiers in the kingdom's southwestern border regions, and fatally shot 894 Saudi mercenaries across Yemen in 2017, Yemen's official news agency SABA reported.
The statement added that Yemeni soldiers and their allies also destroyed eight M1 Abrams main battle tanks, 196 armored vehicles, 31 tanks and 1,337 military vehicles during the mentioned period.
Yemeni naval forces also struck two gunboats, four battleships, a spy submarine and a frigate last year.
Moreover, the country's air defense units and fighters from the Popular Committees intercepted and shot down two General Dynamics F-16 Fighting Falcon fighter aircraft, one McDonnell Douglas F-15 Eagle warplane, two Boeing AH-64 Apache attack helicopters, a Sikorsky UH-60 Black Hawk utility helicopter, a Predator B unmanned aerial vehicle as well as 19 reconnaissance aircraft.
Yemeni forces also launched a total of 45 domestically-produced ballistic missiles, including three solid propellant and Scud-type Borkan-1 (Volcano-1) ones, three Borkan-2 (Volcano-2) missiles and three long-range Borkan H-2 missiles into the positions of Saudi troopers and Saudi-backed militiamen.
Additionally, Yemeni army forces and their allies lobbed a total of 293 homemade and tactical rockets at the gatherings of Saudi soldiers and their mercenaries throughout last year.
At least 13,600 people have been killed since the onset of Saudi Arabia's military campaign against Yemen in 2015. Much of the Arabian Peninsula country's infrastructure, including hospitals, schools and factories, has been reduced to rubble due to the war.
The Saudi aggression war has also triggered a deadly cholera epidemic across Yemen.
According to the World Health Organization's latest tally, the cholera outbreak has killed 2,167 people since the end of April and is suspected to have infected 841,906.
On November 26, the United Nations children's agency (UNICEF) said that more than 11 million children in Yemen were in acute need of aid, stressing that it was estimated that every 10 minutes a child died of a preventable disease there.
Additionally, the UN has described the current level of hunger in Yemen as "unprecedented," emphasizing that 17 million people are now food insecure in the country.
It added that 6.8 million, meaning almost one in four people, do not have enough food and rely entirely on external assistance.