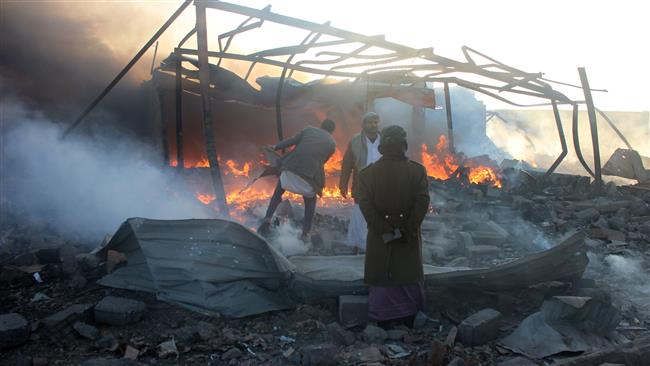 New Saudi airstrike leaves dozen civilians dead in Yemen's Ta'izz
Yamanyoon- Jan 9 , 2018
At least a dozen more civilians have lost their lives when Saudi fighter jets carried out an airstrike in an area of Yemen's southwestern province of Ta'izz as the Riyadh regime presses ahead with its devastating aerial bombardment campaign against its conflict-plagued southern neighbor.
Local source, speaking on condition of anonymity, told Arabic-language al-Masirah television network that the victims were killed as Saudi military aircraft targeted trucks loaded with coal travelling along a road linking al-Najibiyah district and Hays region in the neighboring coastal province of al-Hudaydah on Tuesday afternoon.
The development came on the same day that Yemeni army forces and allied fighters from Popular Committees launched a barrage of artillery rounds at a gathering of Saudi-backed militiamen loyal to Yemen's resigned president, Abd Rabbuh Mansur Hadi in the city of Sirwah, which lies about 120 kilometers (75 miles) east of the capital Sana'a, leaving scores of them killed and injured.
In the As Silw district of Ta'izz province, several Saudi mercenaries were killed and wounded when an explosive device went off in their position.
Yemeni soldiers and their allies also fired a number of artillery rounds at Saudi troops in the al-Ghawiyah military base of Saudi Arabia's Jizan region, located 969 kilometers south of the capital Riyadh.
There were, however, no immediate reports on possible casualties and the extent of damage caused.
At least 13,600 people have been killed since the onset of Saudi Arabia's military campaign against Yemen in 2015. Much of the Arabian Peninsula country's infrastructure, including hospitals, schools and factories, has been reduced to rubble due to the war.
The Saudi-led war has also triggered deadly epidemics of infectious diseases, especially diphtheria and cholera, across Yemen.
According to the World Health Organization's latest tally, the cholera outbreak has killed 2,167 people since the end of April and is suspected to have infected 841,906.
WHO has also warned that at least 471 people in Yemen have contracted diphtheria, a bacterial disease that has been killing one in 10 Yemenis since the outbreak started in the war-torn country in mid-August last year.
The UN agency's spokesman, Tarik Jasarevic, made the disturbing announcement last Thursday, adding that the west-central province of Ibb and the western province of Hudaydah were the hardest hit by diphtheria, which is easily spread between people through direct physical contact or the air.
On November 26, the United Nations children's agency (UNICEF) said that more than 11 million children in Yemen were in acute need of aid, stressing that it was estimated that every 10 minutes a child died of a preventable disease there.
Additionally, the UN has described the current level of hunger in Yemen as "unprecedented," emphasizing that 17 million people are now food insecure in the country.
It added that 6.8 million, meaning almost one in four people, do not have enough food and rely entirely on external assistance.