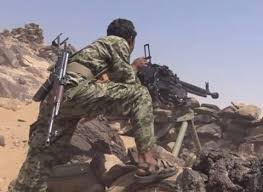 Yemeni Forces Capture Military Base in Southwestern Saudi Arabia
Yamanyoon – Jan 11, 2018
Yemeni forces captured a Saudi military base in the kingdom's border region of Najran during a retaliatory operation, killing several of the troops stationed there.
A video released by the Ansarullah movement on Wednesday shows the Yemeni forces ambush the base, using simple weaponry, while the Yemeni forces seized Saudi weapons after capturing the base, according to the al-Masirah television network.
In response, Saudi helicopters hovered over the base and bombarded the area without hitting a specific target, according to the report.
Yemen's Arabic-language al-Masirah television network had also reported that Yemeni air defense forces, backed by fighters from allied Popular Committees, employed the system to intercept and target a twin-engine, all-weather tactical F-15 fighter jet belonging to the Royal Saudi Air Force in the skies over Sana'a days ago.
The development came only hours after Yemeni air defense forces used another battery of the same missile defense system to shoot down a twin-engine and multirole Panavia Tornado combat aircraft as it was flying in the skies over Kitaf wa al-Boqe'e district in Sa'ada province.
According to a report, Yemeni army soldiers, backed by allied fighters from the Popular Committees, killed nearly 400 Saudi soldiers and hundreds of Saudi-backed militiamen loyal to Yemen's resigned President, Abd Rabbuh Mansur Hadi, last year in retaliation for the Riyadh regime's deadly military campaign against the crisis-hit country.
The Yemeni Joint Operations Command announced in a statement on Wednesday that Yemeni forces shot and killed 399 soldiers in the kingdom's Southwestern border regions, and fatally shot 894 Saudi mercenaries across Yemen in 2017, SABA news agency reported.
The statement added that Yemeni soldiers and their allies also destroyed eight M1 Abrams main battle tanks, 196 armored vehicles, 31 tanks and 1,337 military vehicles during the mentioned period.
Yemeni naval forces also struck two gunboats, four battleships, a spy submarine and a frigate last year.
Moreover, the country's air defense units and fighters from the Popular Committees intercepted and shot down two General Dynamics F-16 Fighting Falcon fighter aircraft, one McDonnell Douglas F-15 Eagle warplane, two Boeing AH-64 Apache attack helicopters, a Sikorsky UH-60 Black Hawk utility helicopter, a Predator B unmanned aerial vehicle as well as 19 reconnaissance aircraft.
Yemeni troops also launched a total of 45 domestically-produced ballistic missiles, including three solid propellant and Scud-type Borkan-1 (Volcano-1) ones, three Borkan-2 (Volcano-2) missiles and three long-range Borkan H-2 missiles into the positions of Saudi troopers and Saudi-backed militiamen.
Additionally, Yemeni army forces and their allies lobbed a total of 293 homemade and tactical rockets at the gatherings of Saudi soldiers and their mercenaries throughout last year.
Saudi Arabia has been striking Yemen since March 2015 to restore power to fugitive president Mansour Hadi, a close ally of Riyadh. The Saudi-led aggression has so far killed at least 15,500 Yemenis, including hundreds of women and children.
Despite Riyadh's claims that it is bombing the positions of the Ansarullah fighters, Saudi bombers are flattening residential areas and civilian infrastructures.
According to several reports, the Saudi-led air campaign against Yemen has driven the impoverished country towards humanitarian disaster, as Saudi Arabia's deadly campaign prevented the patients from travelling abroad for treatment and blocked the entry of medicine into the war-torn country.