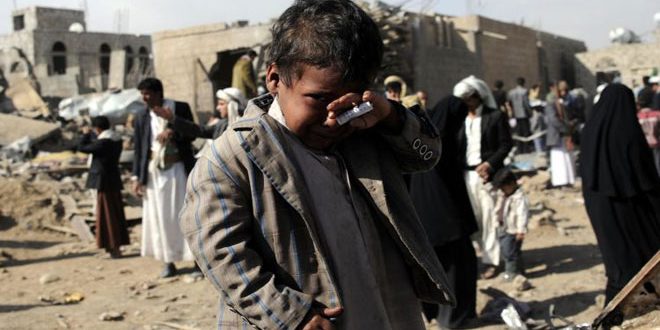 Report: 7 civilians killed, 6 injured in 32 Saudi airstrikes, 2 cluster bombs over Tuesday
Yamanyoon
M.A.
Seven Yemeni civilians were killed while another six sustained injuries in 32 airstrikes conducted by the Saudi-led coalition. In addition, three international banned cluster bombs hit several governorates in Yemen over the past 24 hours, according to summarized official reports on Wednesday. 
In Saada governorate, a civilian lost his life and another got injured in four airstrikes targeting tents of Bedouin nomads in Mahather area in Suhar district, while two women were wounded in an airstrike that hit Boqaah area in Maran in Haidan district.
To continue with Saada, three air raids struck Takhia area based in Majaz district, while an additional two hit Layah area in Dhahir district.
In Amran governorate, some 50 km away from the capital Sana'a, six civilians were killed and three others injured when a Saudi American airstrike targeted a main road in Majzaah area located in Qaflah district.
In Marib governorate, about 173 km north-east of the capital Sana'a, the US-backed warplanes dropped three cluster bombs on Serwah district.
In Jawf governorate, two airstrikes hit Khub-washaaf district.
In the north-west governorate of Hajjah, the fighter jets of the Saudi-led coalition launched 12 airstrikes on Haradh and Medi districts.
In Jizan bordering governorate, the Apache helicopters of the coalition fired more than 11 rockets on Jarah valley, while the KSA/UAE warplanes launched three raids on Majazh village and one airstrike on its own paid-militias' station with their military vehicles west of Majazh.