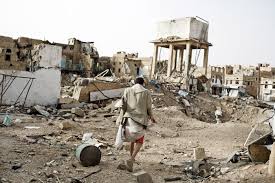 An Update of the Saudi Crimes Committed in Yemen on 27-Feb-2018
Yamanyoon
The Saudi aggression continued, on Monday, launching its airstrikes in various provinces, causing material damage to public and private property.
In Saada province, Saudi jets carried out its riads on various locations inside the bordering province of Razih. The district was hit with more than 75 rockets and shells. Moreover, districts of Manbah, Ghmer, and Shadda were bombarded with artillery and rocket fire.
In the governorate of Hajjah, US-Saudi aggression carried out 10 missiles on different areas of the districts of Harad and Medi.
In Marib province, the Saudi-American aircrafts launched seven raids on Sarawah district.
In Al-Jawf governorate, the Saudi American Airforce targeted with seven missiles the district of Shaab and Shaaf. Moreover, six raids were put on al-Matoon district.