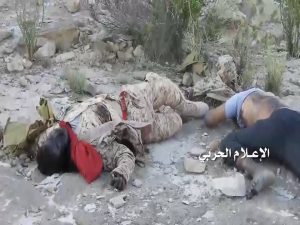 Yemen's Army Takes the Lives of Saudi Soldiers In the Saudi Province of Jizan
Yamanyoon
Yemen's military forces killed a vast amount of Saudi soldiers and injured many others in Jizan Saudi province on Tuesday, a military official told Yamanyoon.
The Yemeni rocket's force fired a barrage of Katyusha rockets toward Saudi soldiers' gatherings in Towal outlet, killing and wounding several of them.
The army snipers gunned down two Saudi soldiers in Al-Abadia and Al-Kahsool sites.
The army's artillery also bombarded gatherings of Saudi army troops along with their military vehicles in Al-Qarn and Al-Khaqaq villages and in Qaim Zabid site.
Meanwhile, the army artillery bombed Saudi-backed militants' groups off Alib outlet and Al-Qanasin hill of Asir front, inflicting heavy losses upon them.