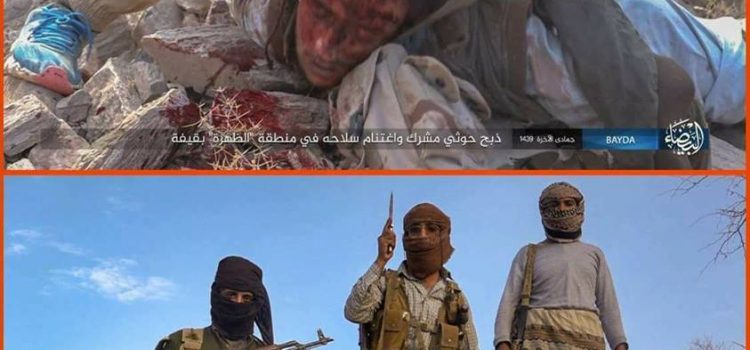 ISIS Slaughters a Captive from the Yemeni Army, Ansarullah
Yamanyoon
A prisoner from the Yemeni Army and Ansarullah was slaughtered by the Saudi-paid militias, in the district of Qayfah in Al-Bayda Governorate, central Yemen.
The media of Daesh, which is fighting side by side with Saudi-UAE-paid militias, released pictures of three militias slaughtering a prisoner of the Yemeni army and Ansarullah after he was captured in Al-Bayda Governorate, central Yemen.
A media agency affiliated with Da'ash organization displayed in its Twitter account pictures of the slaughter of the aforementioned captive arrested by the coalition militias during the recent clashes in Dhahra in Qayfa area, Al-Bayda Governorate.
Such act emphasizes the type of the fighters among the militias supported by the coalition countries, which indicate the involvement of hundreds of terrorists summoned by Saudi Arabia and the UAE to fight within the ranks of their paid-militias in Yemen.