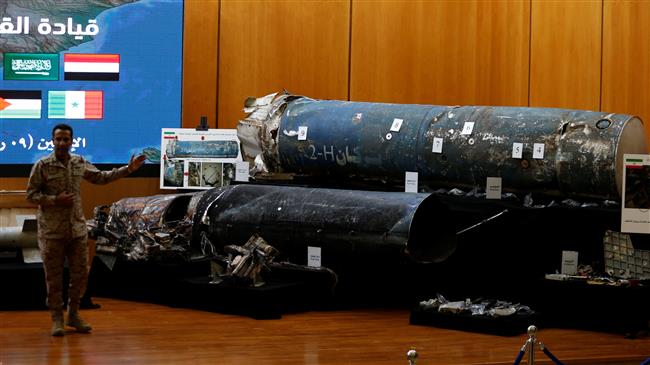 Saudi claims against Iran meant to cover up crimes in Yemen: IRGC
The Islamic Revolution Guards Corps (IRGC) has rejected Saudi accusations that Iran is providing missiles to Yemen's Houthi Ansarullah movement, saying such claims are aimed at diverting attention from Riyadh's war crimes in Yemen.
IRGC's Deputy Commander for Political Affairs Brigadier General Yadollah Javani told Tasnim news agency on Tuesday that all routes to send weapons to Yemen are blocked as the country remains under a full Saudi blockade.
The Saudi-led coalition, which is engaged in a bloody 0military campaign against Yemen, displayed wreckage of what it claimed to be fragments of ballistic missiles supplied to the Houthis by Iran.
"The missiles launched against Saudi territory were smuggled from Iran," coalition spokesman Turki al-Malki said on Monday, warning that the alliance reserves "the right to respond against Iran at the right time and right place."
The senior IRGC commander further said "the Saudis with the help of the Americans, Zionists and some other reactionary regional governments have actually been committing major crimes and attacking the oppressed nation of Yemen over the past three years."
Therefore, in order to divert public attention across the region and the world from these atrocities, they fabricate several claims, among them Iran's transfer of weapons to Yemen to reinforce the Houthi movement.
Javani added that Saudi Arabia is also seeking to cover up its embarrassing failures in Yemen by leveling such accusations.
He further stressed that the Yemeni nation is standing firm against the Saudi aggression and has achieved the capability to produce its own defensive weapons, including missiles.
"This is an achievement that has been inconceivable to Saudis," the IRGC general said.
On Monday, Iran rejected the United Kingdom's allegations about the Islamic Republic's provision of missiles to Yemeni Houthi fighters and held Britain liable for war crimes in the country.
Saudi Arabia and its allies launched the war on Yemen in March 2015. The military campaign has killed and injured over 600,000 civilians, according to the latest figures released by the Yemeni Ministry of Human Rights. It has also led to a dire humanitarian crisis in the Arabian Peninsula state.
Several Western countries, the US and the UK in particular, are accused of being complicit in the Saudi-led aggression on Yemen as they supply the Riyadh regime with advanced weapons and military equipment.
Press TV