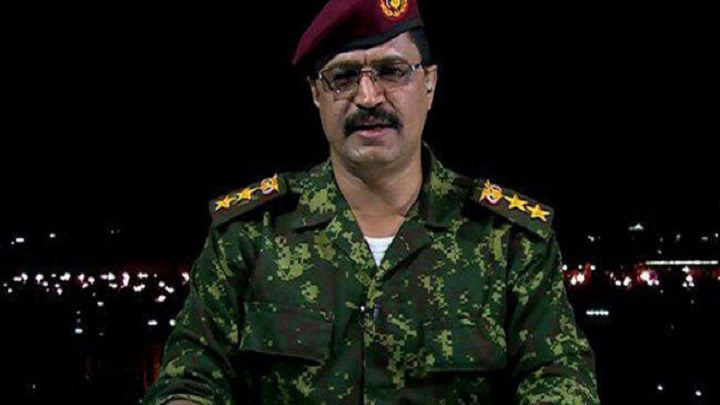 A new stage of development for the Yemeni Missile Strikes
Yamanyoon
The Yemeni Army Spokesman assistant Colonel Aziz Rashid said on Tuesday that the fourth year will have a more advanced strategy because the balance of power has changed and surprises are coming in more military strike.
Rashed said in statements to Al-Masirah channel: "The massive ballistic strikes that now can reach the Saudi capital, Riyadh,  is the harvest of three years of accelerated research and development, We have a deterrent missile force" The fourth year strategy will change from a single stage strikes to multiple ballistic missiles strikes.
He added that "these strikes came in fulfillment Of Sayyid Abdul Malik Al-Houthi  promise. This move expresses the confident in the accuracy of the missile and indicates the conversion of words to tactical and strategic actions in the field.
He pointed out the inability of the Saudi's air defense to intercept missiles and how they rely on a weak base which is not able to protect them. The Americans, however, loot their money , and calling them " milking caw " is a sign of American underestimation of the Saudi regime.
The army spokesman confirmed that these strikes will create dissatisfaction and protestation on  the policy of Salman and his son to further wrestling within the Saudi family.
Rashid also mentioned the economic effects of these strikes saying that "giant companies, investors and share capital will leave Saudi Arabia because it has become an unsafe area after the strikes. Sayyid Abdul-malik Al-houthi has warned foreign companies in Saudi Arabia and the UAE to leave for their safety.
He concluded by saying: "At the same time we will create a state of popular confidence on the Yemeni Army and leadership as they are able to protect them, and mercenaries will turn into a state of frustration of relying on Saudi Arabia through these factors and developments political solutions
will be quick to search "