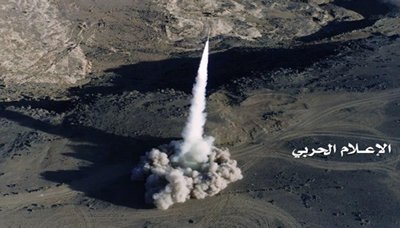 Yemeni forces launch ballistic missile against Saudi base in Jizan: Report
Yamanyoon
Yemeni army forces, backed by allied fighters from Ansarullah Popular Committees, have fired a short-range domestically-manufactured ballistic missile at a Saudi military base in the kingdom's southwestern region of Jizan, in retaliation for the Saudi regime's campaign against the impoverished country, Yemeni media report.
Yemen's official Saba news agency, citing an unnamed military official, said that the short-range Badr-1 ballistic missile was launched on Friday evening against the al-Darb military camp, adding that the projectile had hit the designated target in the region with great precision.
There were no immediate reports on the number of possible causalities and the extent of damage caused.
Saudi sources, however, claimed to have intercepted the incoming Yemeni missile.
Saudi Arabia often claims that it intercepts incoming Yemeni missiles, but a close study of evidence by The New York Times last year clearly suggested that in one of the most high-profile of such Yemeni missile attacks, the projectile, launched deep into Saudi territory, had in fact landed unimpeded, bypassing American-made Patriot missiles and potentially other defenses used by Riyadh. Saudi Arabia claimed that it had foiled that attack, which targeted the Riyadh airport.
Saudi Arabia and its allies launched the war on Yemen in March 2015 in support of the country's former Riyadh-friendly government. The Yemeni Ministry of Human Rights announced in a statement on March 25 that the Saudi-led war had left 600,000 civilians dead and injured until then.
In one of the deadliest air raids, Saudi warplanes last month targeted a wedding ceremony in Hajjah several times, killing almost 50 people and wounding 55 others. Saudi jets also carried out raids on the ambulances transporting the casualties to local hospitals.
The Saudi-led countries engaged in the war on Yemen have also blockaded the already-impoverished country.
According to the UN figures, a record 22.2 million people in Yemen are in need of food aid, including 8.4 million threatened by severe hunger.
PressTV