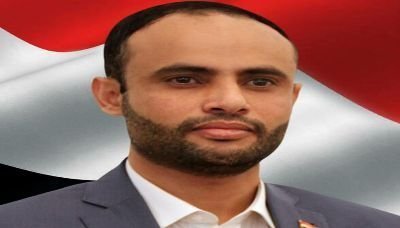 President addresses Yemeni people on occasion of Ramadan
Yamanyoon
President of the Supreme Political Council Mahdi al-Mashat delivered on Wednesday a speech, addressing the Yemeni people on the occasion of the holy month of Ramadan.
In his speech, the president expressed his congratulations to the Yemeni people and to the Arab and Islamic nations on the advent of the holy month of Ramadan.
"We are in the fourth year of the epic legendary steadfastness of Yemeni people against the tyranny and criminality forces, in the forefront of which is US-backed Saudi regime," the president said.
The steadfastness and confrontation is the only choice for the Yemeni people to achieve their freedom, he added.
The president noted that the Islamic nations are facing serious dangers and challenges that are not hidden.
"Everyone is aware of the nature of the US-Zionist expansionist projects, not the last of which is the storming and desecration of the Al-Aqsa Mosque by Zionist settlers amid a humiliating silence of the Arab regimes," al-Mashat said.
The president praised the Palestinian movement in its uprising against American-Zionist projects and the US embassy relocation to (al-Quds) Jerusalem.
The president strongly condemned the crimes of occupation, Judaization and murder committed by the U.S. and the Zionist entity in Palestine, expressing support to all options of the Palestinians in resisting and confronting the Zionist occupation.
He called on Yemeni people to confront the misleading campaigns carried out by the enemy to target their identity, culture, and values.
The president confirmed that the Yemeni political leadership will continue to extend a hand to a just and honorable peace.
"We are rejecting the options of surrender and humiliation, regardless of the length of the battle and the size of sacrifices", he added.
Saba