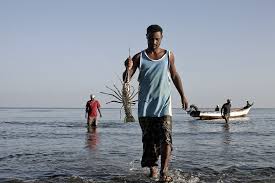 UAE arrests more than 70 Yemeni fishermen for making a living
Yamanyoon
In light of the harsh living conditions of Yemeni fishermen as a result of the violations and siege practiced by the Saudi-led coalition against them, especially the southern fishermen, the UAE forces and their armed loyalists in Hadramout arrested more than 70 fishermen from Hadramout fishermen because they claim their right to fish in the sea.
Fishing has been prohibited by the UAE, according to local sources close to YemenExtra.
Fadi Baoum, leader of the Southern Movement, said: "Today, the UAE has arrested 70 fishermen from Hadramout because they fought for a living and demanded the lifting of the siege imposed by the UAE forces preventing fishing in the Yemeni sea."
"The Al Rayan airport in Hadramout is being closed down and turned into a military barracks for Emiratis and a prisoner of enforced disappearance, yet there are those justifying such crimes," he added.
Baoum added on a Facebook post that, "there are those who have been closing the road Mukalla Al-Shahr because it passes by the port of Al-Dhuba for the export of Hadrami oil, which we don't know how much, for whom nor the amount of oil being sold. Those behind the closure raised UAE flags."
Fadi Baoum also said that the Emiratis violate the dignity of officials and Hadrami elites every day in front of the gate of Al Rayyan airport and concluded by saying that they don't have dignity for they have carried so many violating actions.
Meanwhile, sources in Mukalla have accused the UAE of plundering the fishing resources in Mukalla and hunting Yemeni fishing vessels by bulldozing coral reefs and expelling fish from the sea, accusing the UAE forces of protecting modern fishing vessels that steal southern fishing from the shores of Aden to the Al-Mahra beaches of Mukalla and Socotra.