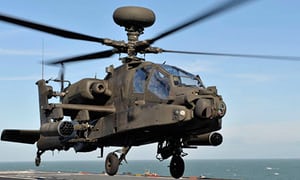 Yemeni Forces Shoots down a Saudi Apache Helicopter in Jizan
Yamanyoon
Yemeni forces have reportedly shot down a Saudi Apache helicopter gunship in the southwestern region of Jizan, in a retaliatory attack that killed all those on board.
"Air defense of the Yemeni forces and Ansarullah, also known as "Houthis", has shot down an Apache helicopter of the Saudi army while it was flying over Jahfan in Jizan," a military source told Yamanyoon.
All crew members were killed in the attack, it added. Earlier, the Yemeni forces shot down a CH-4 reconnaissance drone belonging to the Saudi-led coalition in the nearby region of Asir.