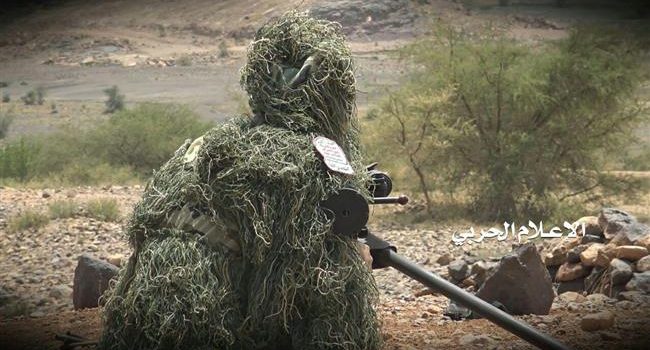 After joining the front line .. sniper unit confirms shooting dead 61 paid fighters during the past 48 hours
Yamanyoon



A military source in the sniper unit confirmed the death of 31 paid fighters in shooting operations on Sunday, on the fronts of Asir, Taiz, Serwah , Nehm and #the West Coast Front.

According to the source, six Saudi armies paid fighters were killed by shooting operations on Jizan and Asir border fronts, while 5 were shot dead in Marib front and four others in al-Bayda.

In Taiz front, the sniper unit shot dead 5 paid fighters and 10 others in different areas of the Western Coast Front during the past 24 hours, bringing the number of paid fighters killed by shooting operations during the 48 hours to 61 paid fighters.

It should be noted that the Yemeni Ministry of Defense announced, last week, the entry of sniper units on the confrontation line on the western coast.
Abdulmalik al-Houthi, the leader of the Houthi(Ansarallah)  movement, which is the main force that faces the coalition, said on a TV speech ," The decision of invading the Yemeni, western coast, has been taken and adopted by the United States of America, noting that the Saudis are trying to abolish Yemen's freedom," stressing that it was the people of Yemen's right to defend their country.
"We are increasingly concerned by the fighting in Hodeidah," UN spokesman Stephane Dujarric said at a press conference held on Wednesday.
Dujarric also warned of the repercussions' consequences on the humanitarian situation
"The occurrence of a battle in Hodeidah, in the west of Yemen, could lead to the destruction of the port, which in turn will send millions to starvation," said the British newspaper, The Independent.