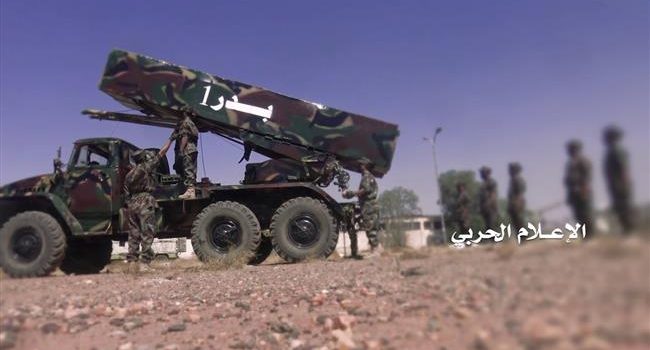 Yemeni missile strikes a key Saudi city
Yamanyoon
The missile force of the Yemeni army forces fired a ballistic missile, Badr1, at Saudi soldiers and paid fighters in recently constructed camp in Najran in response to the U.S backed Saudi-led coalition campaign against their country.
They, yesterday, also attacked Dubai International Airport using a domestically-built long-endurance Sammad-3 (Invincible-3) unmanned aerial vehicle.
On August 20 and 23, the Rocketry Force of the Yemeni army forces fired two ballistic missiles of the same kind at a Saudi camp east of Jizan.
On July 26, they targeted Abu Dhabi International Airport in the UAE, using the same type of combat drone.
Earlier today, they foiled an attempt to advance by the coalition's paid fighters east of Jabal al-Nar, off Jizan, killing and wounding a number of them.
They , in addition, carried out a military operation against their enemy, killing and wounding a number of them on their sites in al-Alam mound in Hailan, Marib,  waged a raid on the paid fighters' sites in the black mounds of Nehm, killing and injuring a number of them, and hit sites and fortifications of the coalition's paid fighters in Karesh Front, Lahj province ,causing direct damage.
Sayyad Abdulmalik al-Houthi, the leader of the Houthi(Ansarallah)  movement, which is the main force that faces the coalition, warned on a TV speech that companies and investors in the UAE that all companies in the UAE should not consider the UAE a safe country anymore. He also stressed that the Saudi oil facilities from today are targets of our missiles.
Back on August 9, the coalition warplanes hit a school bus in the town of Dhahyan in Yemen's northern province of Sa'ada with a 227-kilogram laser-guided Mark 82 bomb, killing a total of 51 people, among them 40 children, and leaving nearly 80 others wounded.
Later investigation by Yemeni authorities revealed that the bomb had been supplied by the US to the military coalition. Furthermore, a report by the CNN also confirmed what Yemeni authorities had announced about the origin of the bomb.
Saudi Arabia and some of its allies, including the United Arab Emirates, Morocco and Sudan, launched a war, code-named Operation Decisive Storm, against Yemen in March 2015 , killing and wounding over thousands civilians in an attempt to reinstall Hadi , the fugitive former president, and crush the popular Houthi Ansarullah movement, which plays a significant role in aiding the Yemeni army in defending the impoverished country against the  coalition.