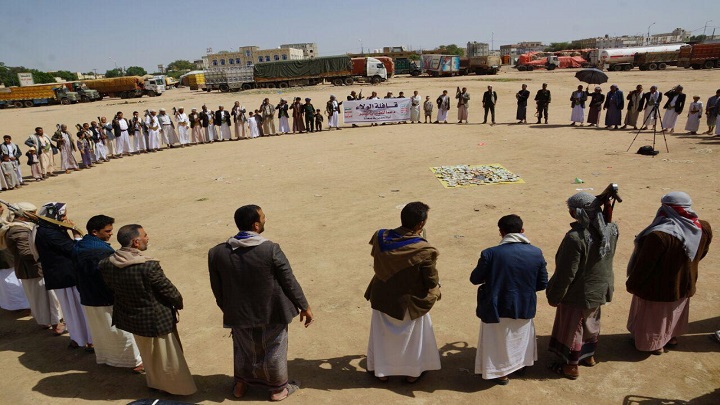 Yemeni Civilians Send Financial Aids to Air Force
Yamanyoon
On Friday, the people of the Saada, sent a financial convoy entitled "Loyalty convoy" in support of the air force.
The convoy consisted of money, gold, jewelry and quantities of weapons and ammunition.
In conjunction with the financial convoy, the demonstrators held a protest in which many words were said which were condemning the crimes of the Saudi aggression against women and children, especially the latest crime on the children of al-Durhami city, Hodeidah province.
The statement stressed the continuation of backing the fronts with fighters and convoys of money and equipment to achieve victory and the expulsion of invaders from every inch in the territory of Yemen, the statement also praised the air defense for shooting down an advanced UAV fighter jet, model CH-4 in Jizan, as well as the operation that attacked Dubai International Airport.
The participants vowed to all the countries of the aggression alliance to take revenge regardless of the sacrifices. They confirmed their support of the fronts with money, men and military equipment until victorious.