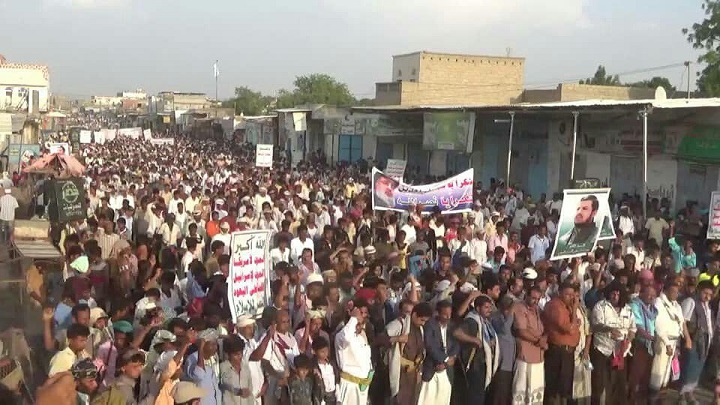 People of Hodeidah Took the Streets to Protest Against the Saudi Aggression
Yamanyoon
The people within the northern square of the province of Hodeidah organized, on Saturday, a mass rally in the commemoration of the martyrdom of Imam Zaid, in addition, to condemn Saudi crimes in Yemen.
The participants condemned the crimes committed by the Saudi-led aggression against innocent Yemeni people, at the same time, criticizing the international silence about the economic war along with the siege imposed by the Saudi-led aggression on Yemen.
During the demonstration, speeches were given which expressed the greatness of Imam Zayd and his revolution against injustice, tyranny.
The words stressed learn the lessons from the life of Imam Zayd in confronting the Saudi-led aggression, who has killed, injured, and displaced millions of the Yemeni people.
The event was attended by the governorate supervisor Ahmed al-Bishri, the undersecretary for culture and information Ali Qashr, the Undersecretary of the Ministry of Education Mohamed Lutf al-Saqqaf and the director of the Education Office in the governorate, Omar Bahr