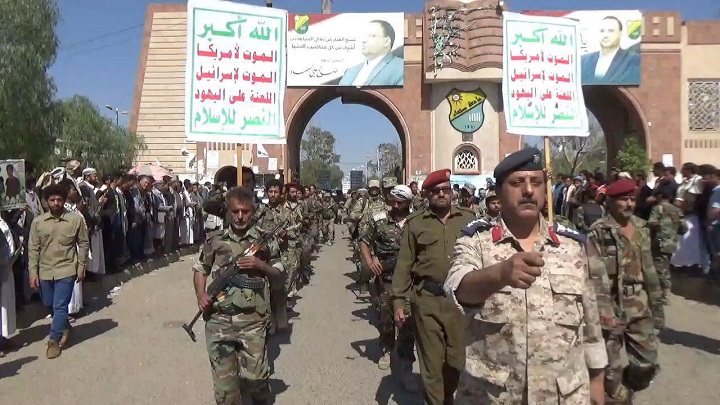 Armed Rallies Take Place in Sana'a to Condemn the Saudi Crimes in Yemen
Yamanyoon
A number of assemblies were organized in the capital of Sana'a on Saturday, condemning the continued Saudi-led aggression and its economic war against the Yemeni people.
The Secretary of the capital, Hamoud Abbad, in the stand organized within the district of Ma'ain and al-Thawra, stressed the steadfastness of the Yemeni people in confronting the Saudi aggression, which has been targeting the Yemenis and their land, emphasizing to sport the Yemeni army along with popular committees with mobilization of men and financial aid.
The secretary stressed in during the event which was also attended by the Undersecretaries of the capital, Ali al-Saqqaf, Qanaf al-Marani and director of the al-Thawra district, Mohammed al-Darwani, the need to take serious actions and redouble efforts to strengthen the fronts and to be aware and cautious of the evil plans that the Saudi aggression trying reach.
He urged the leadership of all the districts within the capital to complete the processing of convoys in support of the fronts, calling for taking down those who try to disturb the public tranquility in the capital by provoking chaos under misleading titles which are supported and financed by the Saudi aggression.
The participants within the organized assembly in the old city of Sana'a and al-Tahrir district stressed the continuation in confronting the Saudi aggression and its mercenaries, in addition to aiding the fronts with militants and financial aid.
During the event, which was attended by Undersecretaries Ali al-Qafari, Abdul Latif al-Omari, Undersecretary of the Ministry of Youth Ghassan al-Madani, Southern Front Coordinator Ahmad al-Ali, and directors of the the old city of Sana'a and al-Tahrir, Mqbel Jaamel and Ahmed al-Sammat, a statement was given, stressing to continuation of aiding the fronts until victory is achieved
.Various speeches were given that condemned the economic war waged by the Saud-led aggression against the Yemeni people through decorating the exchange rate of the local currency.
The people and sheikhs along with prominence of both aforesaid districts declared public mobilization and to continue supporting frontlines with men and money.
All the statements which were given in the assemblies within the capital of Sana'a emphasized the importance of strengthening the cohesion of the internal front and stand united against the Saudi aggression .. Warning of the misleading calls that seek to change the path of confronting the aggression.
The statements called upon the Yemeni people to maintain the internal front stable and to continue to strengthen the fronts, to promote social solidarity and to help those in need.