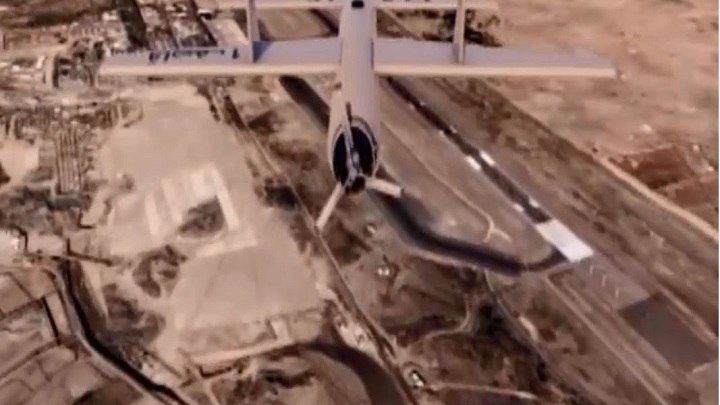 Yemeni Drone Conducts an Aerial Attack on a Saudi Airbase Within the Kingdom in Retaliation
Yamanyoon
On Friday night, the Yemeni air force conducted an offensive operation with a military UAV on King Khaled Air Base in Khamis Mushait within the bordering southern province of Asir.
According to a source that was reported from Yemen's Air Force, a military UAV drone type Qasef 1, carried out a series of raids on the King Khalid Airbase in Khamis Mushait in Asir, a southern bordering Saudi governorate.
The source confirmed that the aerial attack achieved successful targets within the Saudi air base, where the Saudi-led warplanes fly from to carry out brutal attacks on Yemen.
This operation comes in retaliation hours after the spokesman of the Saudi-led coalition claimed that the coalition military aircraft destroyed with a series of raids on Thursday night, Yemeni ballistic missiles in the al-Dailami air base in Sana'a.
The Saudi-led coalition did carry out more than 30 raids on the Dailami base in Sana'a within just one hour, despite the continuous hovering of the warplanes, but only 18 aerial raids were conducted on the al-Dailiami Air Base.
Other raids were launched on the province of Sana'a, where the Saudi-led coalition launched 10 raids on the district of Hamdan while continuous hovering of its planes, and launched 4 raids on Camp Jerban within the district of Sinhan.
In a preset time, the Saudi coalition launched a raid on the Abu Nashtan Center in the Arhab district.
Additionally, on Friday, the Saudi-led warplanes carried out more than 100 airstrikes on the coastal western province of Hodeidah, most of which targeted district of Kilo-16, in addition to intensive ground shelling by Saudi mercenaries on the aforesaid province, resulting in the injury of two children.
This Saudi escalation comes after the US urged for a cease-fire, specifically citing missile and drone strikes into Saudi Arabia and the United Arab Emirates from Houthi-controlled areas of Yemen. On the other hand, the Arab coalition, backed by the U.S., "must cease in all populated areas in Yemen."
However, since the US call for peace, a vast escalation was observed in Yemen, especially within the province of Hodeidah, where reports say thousands of mercenaries just arrived to start a massive assault on the city.