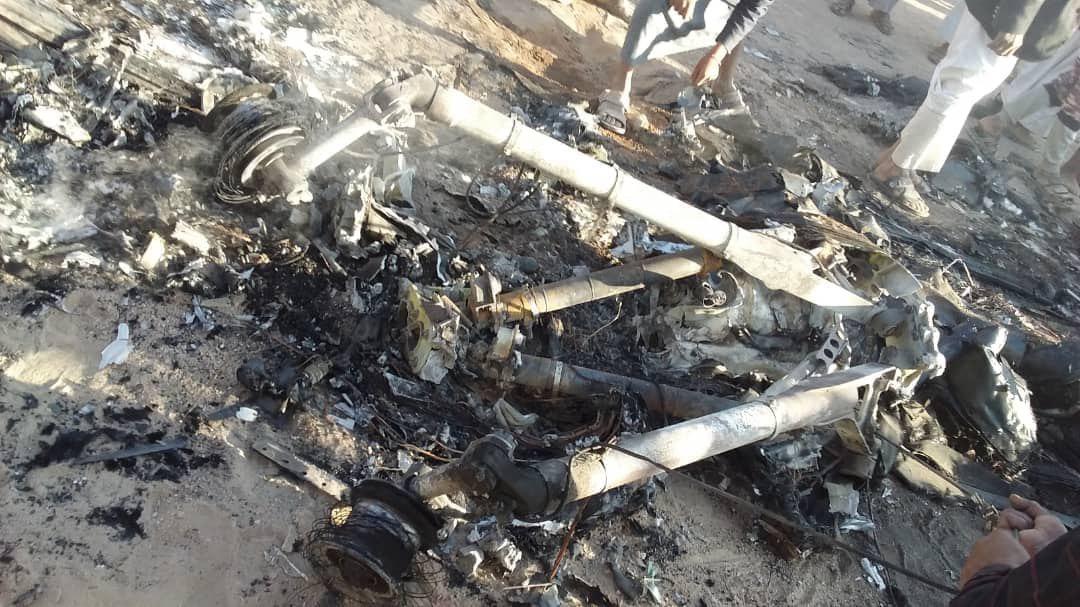 In Photos: Saudi Armed UAV Shot down by Yemen Air-Defense Systems
Yamanyoon
The air defenses of the Yemeni army and the Popular Committees, on Sunday, downed a combat drone aircraft belonging to the Saudi-led aggression in the Yemeni northern Saada province.
The spokesman for the Yemeni army said the armed UAV that was shot down earlier on this day is Chinese made, type "CH4" and was targeted by a surface-to-air missile.
The CH-4, a Chinese-made advanced aircraft, can carry four AR-1 missiles at a height of 7200 meters. The upgraded version CH-4 has a capacity of 400 kilograms and has the capability to carry a variety of munitions.
The wings of the CH-4 are 18 meters long and have a maximum lift-off weight of 1350 kg and a maximum range of 5,000 kilometers.
It can fly between 5,000 and 7,000 meters. It also has high aerodynamic efficiency. If the takeoff weight is 1350 kg and the air efficiency is 20, it means that the air resistance is only 62.5 kg.
The aircraft has the capability to launch ammunition with five types of ammunition, including a 50 kg cluster bomb, a 50-kilogram terminal-sensitive projectile bomb, a 50 kg guided bomb, a 100 kg laser-guided bomb and a guided slippery bomb weighing 100 kg.
Moreover, It has the ability to perform various kinds of tasks, including monitoring the battlefield and collecting information about enemy combat, and carrying out military operations in prohibited airspace, so that they can strike accurate targets at fixed or moving targets at low speeds on the ground.
One of the Chinese devolpers of the armed UAV said that the CH-4 drone is the strongest and most powerful in its ability to carry out various tasks and its aeronautical efficiency at the national level, in which its overall efficiency is better than the US drone. It is able to perform tasks including battlefield monitoring, intelligence gathering on enemy fighting, and military operations such as counterterrorism and patrols in prohibited airspace so that they can strike accurate targets at low-speed or stationary targets on the ground.
After about 2 hours of targeting the armed UAV, the Saudi-led aggression carried out 2 air raids in the district of Suhar in Saada.