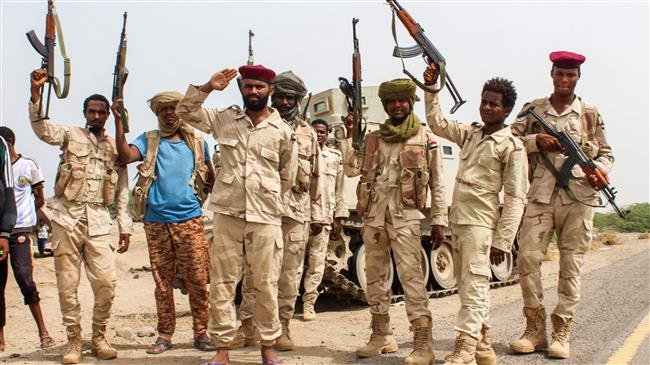 Child soldiers from Sudan's Darfur fight in frontline of Saudi war on Yemen: Report
Yamanyoon
Child soldiers from Sudan's Darfur have reportedly been fighting on behalf of Saudi Arabia and its allies in the frontline of the deadly war on Yemen, with money being their only motive.
The New York Times reported that the Saudis have used their vast oil wealth to outsource the war, mainly by hiring survivors of the Darfur conflict to operate in Yemen, many of them children.
Citing several Sudanese mercenaries and lawmakers, the report said that as many as 14,000 Sudanese militants have been fighting in Yemen alongside Saudi-backed forces while at least hundreds of them have been killed so far.
Almost all the Sudanese come from Darfur and most of them belong to the Rapid Support Forces, a tribal militia blamed for war crimes during the Darfur conflict, the report added.
Saudi Arabia and its allies launched the military aggression against Yemen in March 2015 but have been facing strong resistance from Yemeni armed forces led by the Houthi fighters.
The Saudi war has killed tens of thousands of people in Yemen and pushed the impoverished country to the brink of famine.
Elsewhere, the report said that Saudi or UAE overseers commanded the Sudanese militants by remote control radio headsets and GPS systems in a bid to keep a safe distance from the battle lines.
"The Saudis told us what to do through the telephones and devices," said Mohamed Suleiman al-Fadil, a 28-year-old ex-Sudanese militant, adding, "They never fought with us."
He also highlighted the Saudis' incompetence to fight against the Houthis, saying, "Without us, the Houthis would take all of Saudi Arabia, including Mecca."
"The Saudis would give us a phone call and then pull back," said Ahmed, 25, who fought near the Yemeni port city of Hudaydah."They treat the Sudanese like their firewood."
The report also noted that some Sudanese families even bribe militant officers to let their teenage sons go fight.
Abdul Raheem, 32, said that last year his family paid a local militant leader a bribe worth $1,360 to an older brother could go to Yemen.
"People are desperate. They are fighting in Yemen because they know that in Sudan they don't have a future. We are exporting soldiers to fight like they are a commodity we are exchanging for foreign currency," said former banker Hafiz Ismail Mohamed.
Five Sudanese militants, who had returned from Yemen, and another about to depart told The New York Times that children made up at least 20 percent of their units. Two other militants, however, put the number at over 40 percent.
They said that Sudanese jets flew from the cities of Khartoum or Nyala to Saudi Arabia with 2,000 to 3,000 soldiers on board.
They added that at Saudi camps, which already host as many as 8,000 Sudanese, the Sudanese mercenaries received American-made uniforms and weapons.
Then, they said, Saudi officers provided the Sudanese two to four weeks of training, divided them into units of 500 to 750 and sent them overland to Yemen.
The Sudanese militants interviewed also noted that they all had fought in Yemen only for money.
The Sudanese are paid in Saudi riyals, the equivalent of about $480 a month for a 14-year-old novice to about $530 for an experienced officer. They receive an additional $185 to $285 for any month they saw combat — every month for some.