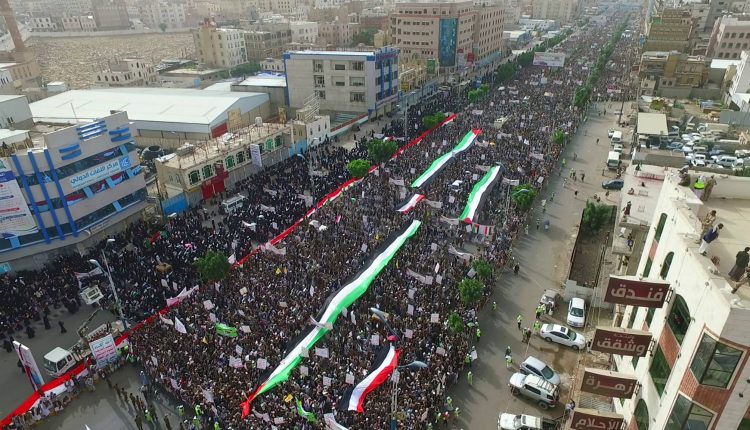 Yemeni People to Go on Mass Rallies in Rejection of Normalization with Israel
Yamanyoon
The Yemeni capital Sana'a will witness this Sunday afternoon, along with other Yemeni provinces, a massive anti-normalization protest with Israel. The protests will be held under the slogan "The disownment from Traitors". The protest aims to denounce the shameful Arab participation in the Warsaw American-Israeli Summit and disown the actions of Khaled al-Yemeni who was sitting next to the Prime Minister of the Zionist entity Netanyahu; in addition to emphasizing the priority of the first central Islamic national issue of Palestine.
A statement issued by the Organizing Committee called on all Yemeni people to participate in these rallies Sunday afternoon; to show that Yemeni have nothing to do with the traitors and to insist on the steadfastness and the rejection of normalization with the Zionist enemy.
The statement called on the people of Hajjah province to participate in the mass rally which begins this morning from the mosque of Luqman. The province of Dhamar will also witness a protest, which will start from the Baradoni Bearue. Lastly, the people of Saada province organized the protest to be held in the courtyard of the Muaatsim in the city this morning.
The organizing committee called on participants in this event to denounce and condemn the sitting of the mercenary Khalid next to the prime minister of the Zionist entity at the Warsaw Summit, which has exposed the identity of the mercenaries of Riyadh that are fighting against the Yemeni people.