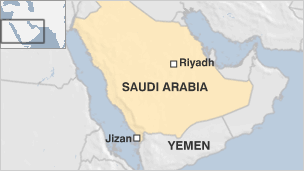 Army Advances into Saudi Southern Province "Jizan"
Yamanyoon
The Yemeni army with volunteers from the popular committees on Monday managed to control and advance into mercenaries positions in the Al-Nar mountain in Jizan.
A military source reported that the Yemeni army and the Popular Committees took control of the site of the mercenaries east of Al-Nar mountain, an offensive that resulted in the deaths and wounded many of the mercenaries ranks affiliated with the Saudi aggression.
It is worth mentioning that the Yemeni forces and the Popular Committees managed earlier in the day to foil an attack of the mercenaries on their positions off Mount Qais in Jizan, which lasted more than 7 hours without achieving any progress, and resulted in the killing and injuring of about 40 mercenaries during that time.