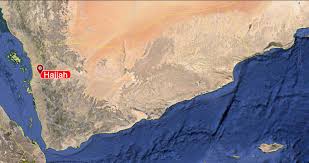 Saudi Aggression Commits Heinous Crimes in Hajjah (Report)
Yamanyoon
The US-backed Saudi aggression launched a series of raids targeting citizens' houses and displaced persons in the Kushar district within Hajjah governorate, which led to the killing of civilians and wounded in retaliatory raids from the people who stood with the security men in liberating several areas in Kushar from the subversive elements who worked with the Saudi aggression in creating chaos within this district.
On Sunday morning, the Saudi aggression carried out a raid on a civilian's house whose name is  Ahmed al-Hadi, was first reports say that more than 40 civilians, including children and women, are now under the rubble till this moment.
Moreover, our source reported of killed and wounded civilians, including women and children following an air raid by the Saudi aggression which struck at dawn on Sunday the home of a citizen in the center of Kushar.
The source added that the warplanes of the Saudi aggression targeted on Saturday night a car for the displaced in the area of Sodin Bakshar, pointing to the occurrence of casualties.
In addition, the Saudi jets launched more than 15 raids on the Kushar district, causing material damage to the homes and property of the citizens.
In a preset time, a number of 3 citizens lost their lives while 9 others were wounded from one family, last Friday, following a raid by the Saudi American warplanes that targeted their home in the area of Magharba Qaracheh in the Kushar district in the province of Hajjah.
The raids and massacres against civilians committed by the Saudi-led aggression in the district of-Kushar come in retaliation from the citizens who rejected the subversive elements that the aggression brought to the district and even supported these elements through air-dropping packages of weapons and ammunition a number of seven times in order in an attempt to help these elements in achieving any victories, but they failed to achieve any.
The Interior Ministry has announced, on Thursday, the complete control of the district of Kushar and Abyssa in the province of Hajjah after being cleared of the subversive elements associated with the Saudi-American aggression.
The ministry said that the security forces, the army and popular committees with the support of tribesmen of Hajjar and Hajjah province, managed to take full control of the area of Abyssa and neighboring areas in the Kushar district, Hajjah province and completely oust these subversive elements who are outside the law and order, and were linked to the Saudi aggression.
The ministry said that during the qualitative security operation, a number of elements outside the law and order were eliminated, while a number of these elements were handed over to the security forces and the army, stressing that the area of Abyssa and its adjacent areas became fully insured. The main roads were opened after they were cut by the elements Subversive.