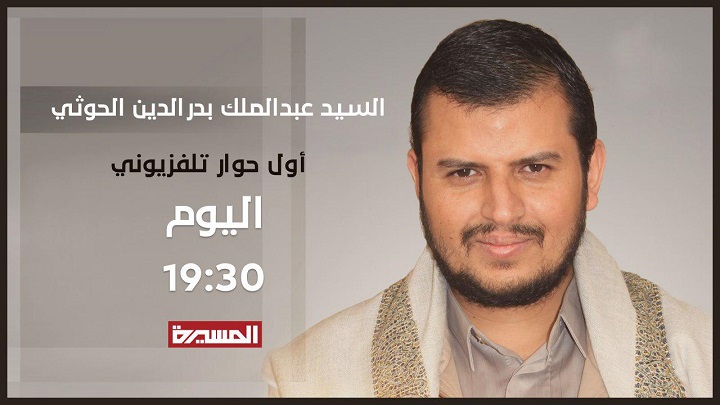 (Exclusive) for the First Time, an Interview with Sayyed Al-Houthi on Al-Masirah Arabic Channel Today
Yamanyoon
For the first time, the Al-Masirah channel will hold an exclusive interview with the leader of the Yemeni revolution, Sayyed Abdul-Malik Badruddin Al-Houthi this Monday evening.
The meeting will be broadcasted on Al-Masirah television channel at 7:30 pm local time (4:30 GMT).
It is expected that the leader of the revolution will discuss the latest developments locally, where Yemen has entered the fifth year in confronting the aggression of Saudi Arabia and the US, and the procrastination of the forces of aggression to implement the Stockholm Agreement, and the prominent role played by the tribes and the Yemeni people in facing the oil empire of Gulf states and the American killing machine.
In addition, the interview will most likely address the Arab and Islamic issues, most notably the Palestinian issue and the alleged deal of the century, and the steadfastness of the Yemeni people to support the Palestinian people.
It is worth mentioning that this is the first time a television channel holds an interview with the leader of the revolution, Abdul Malik Badr al-Din al-Houthi