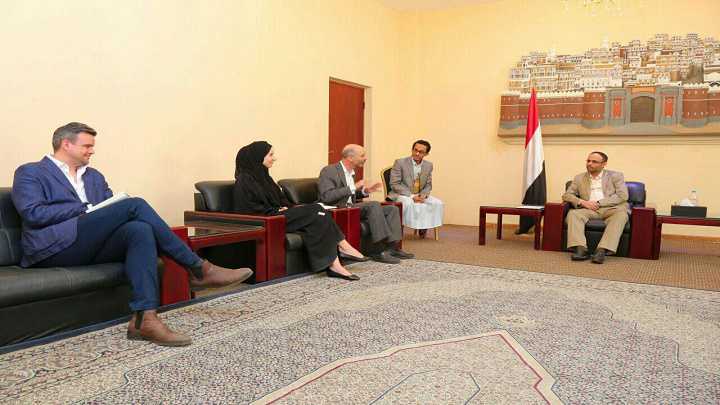 President Mashat: We're Ready to Stop the Attack on Saudi A. If They Stop Their Aggression, Lift Siege
Yamanyoon
President Mehdi Al-Mashat, Head of the Supreme Political Council, said that "Yemen is ready to stop its rocket and aerial attacks on Saudi Arabia if Saudis will do the same and facilitate the access of basic aid through seaports; then a political process can begin in a calm atmosphere." During his meeting with the delegation of the International Crisis Group, the president affirmed that "the Yemenis will reach out to peace at all stages" during facing the US-Saudi aggression. He pointed out that the Yemenis are not seeking to continue the war and are acting in defense of themselves.
The President stressed that Yemen does not accept the US and Israeli presence on its borders, and that "the countries of aggression must know that Yemen is a country that has sovereignty and will not be subjected to anyone's agenda, and once they understated that, the solution will be easy.
" He pointed to the commitment of the Army and the Popular Committees to implement nearly half of the commitments in the Hodeidah's agreement unilaterally while the other pro-aggression party did not implement any step. This exposes the immoral behavior of the mercenaries.
As for the relationship with the Islamic Republic of Iran, the Yemeni president said, "With regard to the false allegations of dependence on Iran, it is false is just a repeated cylinder and we confirm that there is no dependence on Iran."
"The countries leading the aggression against Yemen have a problem with us is not the alleged subordination to Iran, but the problem with us is that we do not follow anyone. If we were people who are in the market of slavery, the Saudi regime had bought us a long time ago. we are people of history and greatness that prevents us to be owned by anyone."
He pointed out that the Supreme Political Council has no objection to dealing with what the delegation of the International Crisis Group suggested about the possibility of launching a Yemeni-Saudi dialogue to achieve a just peace for all.