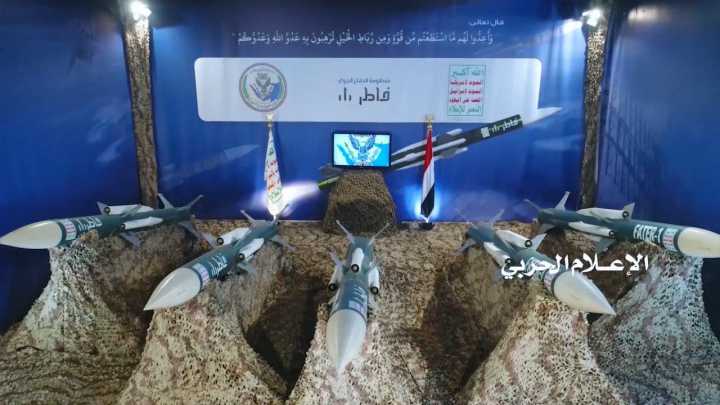 Yemeni Armed Forces Reveal Air Defense Systems, Change Course of Battle
Yamanyoon
Yemeni Armed Forces on Saturday unveiled two types of air defense systems, Fater1 and Thaqib1, which entered the battle in 2017 and managed to confront warplanes of aggression. At a press conference for the Armed Forces spokesman, Brigadier Yahya Saree, confirmed that the Fater 1 system was able to confront the hostile F16, F15, Mirage and Typhoon.
"Early this year, Fater1 was operating in the areas of northern Yemen and it succeeded in thwarting many hostile air operations," Brigadier Saree said.
"The month of June this year saw the downing of a US aircraft type Q9 in Hodeidah Governorate with a missile from the Fattr1 system", he added.
The second air defense system, Thaqib1 system, which entered service in October 2017, Brigadier Sere'e confirmed that Thaqib1 system succeeded in downing MQ9 one month after entering the service, explaining that on September 6, 2018, succeeded intercepting helicopters, Apache, in Hodeidah. They have since then stopped flying for several months.
One of the air defenses most important achievements is neutralizing the Apache flights by 70%, specifically on the border fronts.
He pointed out that the development of a third and fourth defense system within the readiness of the air defense forces will be revealed during the next phase, indicating that the Yemeni air defense systems imposed on the forces of aggression new equations and forced them to deal with caution.
The Armed Forces spokesman said that the air defense systems have pushed the enemy warplanes to take certain actions after they were carrying out their operations without being intercepted by any weapons, pointing out that air defense systems in the areas where they operate pose a real threat to all hostile air targets and this has been demonstrated in the previous phase.
He explained that 72 operations of the air defense targeted enemy hostile reconnaissance, resulting in the downing of dozens of them and 45 operations targeting enemy warplanes succeeded in dropping a number of different types and causing significant damage to a number of others.
He said that the air defense plans include the deployment of defense systems in all areas of Yemen, stressing the continued work to strengthen the air defense capability of the Air Force so that it can address all types of enemy aircraft.
"2018 was the year of ballistic missiles and the current year for the Air Force will be the year of air defense," he concluded.
Images of the new Fater-1 air defense system
Prev
1 of 6
Next