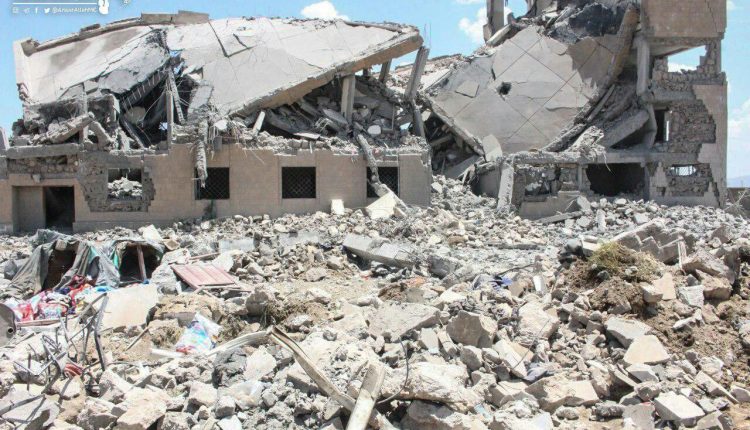 (Pictures) over 100 Killed by Saudi-Led Airstrikes on a Prison Facility in Yemen
Yamanyoon
The US-backed Saudi-led aggression committed a horrific massacre that killed and wounded over a hundred prisoner in Dhamar province.
Last Saturday night, the Saudi-led warplanes launched seven raids on a building that is holding prisoners at the Community College north of Dhamar.
The Ministry of Health confirmed that the number of killed amounted to 60, while the number of injured is 50, stressing that the toll of the dead and the wounded is still not official.
The spokesman of the ministry, Dr. Yousef Al-Hadri, said in a telephone interview with Al-Masirah Arabic channel that the Saudi-led aggression targeted with seven raids "14 missiles" three buildings in the community college in Dhamar, which were containing 185 mercenary prisoners who were captured on different fronts.
Al-Hadri said that 60 bodies had been recovered so far, adding that the death toll could rise above 100, where large numbers of victims are still under the rubble.
He pointed out that a team from the Ministry of Health and the Red Cross, in addition to citizens, are pulling the victims from under the rubble, and collecting the remains of the victims scattered in the place.
Chairman of the National Committee for Prisoners' Affairs, Mr.Abdul Qader Al-Mortada said that the targeted prison is a known-place to the enemy and the International Committee of the Red Cross, which has visited the place several times.
The Chairman of the National Committee for Prisoners Affairs held the forces of aggression, led by the Saudi and Emirati regimes, fully responsible for targeting the prison and what consequences will result from it.
Amnesty International has called for an investigation into a brutal attack committed by the aggressive Saudi-led coalition on a facility in Dhamar independently.
"In one of the most horrific attacks this year, a coalition airstrike destroyed a detention facility in Dhamar in Yemen," it said in a statement.
Amnesty added that the coalition launched seven direct raids on the center, despite the knowledge of its military aircraft and international bodies the location of the center and its holding of prisoners.
Amnesty International confirmed a large number of victims as a result of the Saudi raids, noting that the targeted detention facility in Dhamar has more than 170 detainees and that the raid resulted in killing most of them.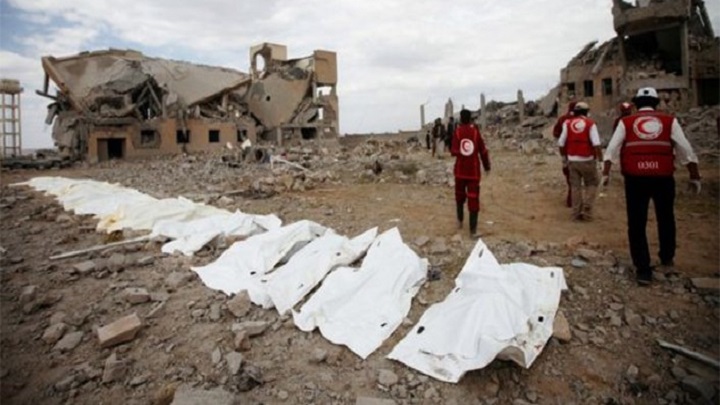 A Saudi-led coalition airstrike on a Yemeni prison has left more than 100 people "presumed killed," said the Red Cross late Sunday after visiting the facility, disputing Saudi officials' claims that the attack had struck a rebel arms depot.
"Witnessing this massive damage, seeing the bodies lying among the rubble was a real shock," said Franz Rauchenstein, the head of the International Committee of the Red Cross in Yemen. "People who are not taking active part in combat should not die in such a way."
Pictures of the aftermath of the Saudi-led aggression crime that shows the destruction of the facility , shattered body parts and killed prisoners
Prev
1 of 17
Next