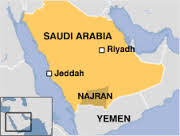 Saudi Soldiers and Military Sites Targeted in Najran
Najran | November 5 | Yamanyoon
The missile force of the Yemeni army and popular committees continue pounding Saudi military sites and soldier gatherings in Najran.
The Yemeni missile force launched several Katyusha missiles on gatherings of Saudi soldiers in Sudaiss and Zuor sites located in Najran, achieving direct hits, military source confirms.
Groupings of Saudi soldiers were also targeted in Arq Al Syool using a salvo of Katyusha missiles, source adds.
Moreover, the Yemeni artillery force successfully aimed at Ash and Hajla sites in Najran. Yemeni shells also pounded the surveillance of Saudi Nahouqah site, Najran.
Earlier today, a number of Saudi soldiers have been killed after burning two of their military vehicles near the frontier passage of Al Khadra'a, Najran.