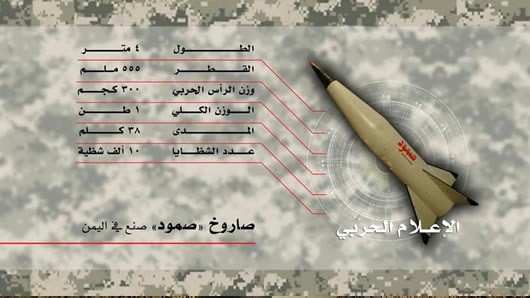 Sumod Rocket Pounds Saudi Mercenary Site in Baitha'a
Baitha'a | November 9 | Yamanyoon
The missile force of the Yemeni army and popular committees launched a Sumod rocket, which is locally made, on a Saudi mercenary camp in Sawma district, Baitha'a governorate, central Yemen.
Monitoring units of the Yemeni forces confirmed the accurate hit Sumod achieved, inflicting Saudi ranks heavy losses in lives and materiel, military source confirms.
In the same context, the Yemeni missile force launched a Sumod rocket on the 24 of last October targeting Sabreen camp in Mariss region, Dhala governorate, southern Yemen.
Sumod is a locally made rocket and is a surface-to-ground missile, tactical, short-term ranges up to 38 kilometers, is equipped with a simple and a mobile base that can be carried on a vehicle.
Its length reaches 4 meters and it has a diameter of 55.5 cm full weighing up to a ton, and it carries a warhead weighing 300 kg. Sumod also possesses a feature of exploding into ten thousand fragments which increases the impact and effectiveness of its targeting.