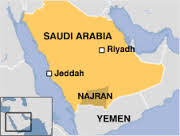 Yemeni Missiles Pound Saudi Military Sites in Najran
Najran | November 16 | Yamanyoon
The missile force of the Yemeni army and popular committees has pounded today Wednesday Saudi military sites in Dhaba, Alib's command and by the surveillance of Hesin Al Hamad site in Najran.
The Yemeni missile force bombarded Saudi sites in the mentioned regions and achieved direct hits, inflicting Saudi ranks heavy losses, military source reports.
Yemeni missiles also successfully reached the surveillance of Hasin Al Hamad site, military source confirms.
Moreover, Katyusha missiles launched by the Yemeni missile force hit their targets accurately aiming at groupings of Saudi soldiers in the site of Al Tala Al Shamali, source adds.
In the same context, two ballistic Tochka missiles have been launched yesterday targeting operation rooms in the Saudi National Guard Camp. Yemeni forces also bombarded Rajla camp using a locally made rocket of the type "Zelzal 3" in the region of Najran.