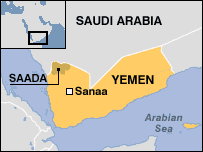 Two Children Wounded by a Cluster Bomb Explosion in Saada
Saada | November 16 | Yamanyoon
Two children have been wounded by an explosion of a cluster bomb, a remnant of the bombs dropped by the US-backed Saudi coalition on Al Samik region, Razih district, Saada governorate.
The explosion of the international forbidden cluster bomb resulted in the injury of two children in Al Samik region, frontier district of Razih in Saada, local source confirmed.
Fighter jets of the US-backed Saudi coalition have dropped thousands of cluster bombs and explosive materials in various Yemeni governorates, especially Saada governorate.
People of Saada are constantly targeted, including their farms, main roads, and even markets using explosive material that is international prohibited. It has caused the death and injury of a large number of Yemeni civilians.
Injuries caused by the Saudi American cluster bombs have even been suffered by innocent children.