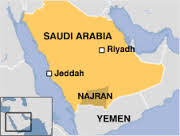 A Large Number of Saudi Soldiers Killed and Wounded in Najran
Najran | November 21 | Yamanyoon
A large number of Saudi soldiers have been killed or wounded today Monday after violent clashes ending with the Yemeni army and popular committees taking control of two new Saudi military sites in Najran.
Yemeni forces successfully took control over two Saudi sites north Al Shabakah, Najran, military source confirms.
Saudi ranks have been inflicted with a large number of deaths and injuries attempting to defeat Yemeni forces and restore the control of the two sites.
Yemeni forces advanced in Najran despite the intensive air coverage provided by the fighter jets and Apache of the US-backed Saudi coalition.
These military operations function as a response to the constant war crimes committed by the US-backed Saudi coalition against Yemeni civilians.