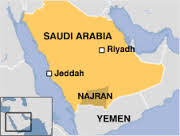 Yemeni Missile Force Pounds Saudi Military Sites in Najran
Najran | November 21 | Yamanyoon
The missile force of the Yemeni army and popular committees pounded today Monday several Saudi military sites in Najran using Katyusha missiles.
Yemeni missile force launched several Katyusha missiles targeting groupings of Saudi soldiers and their military vehicles in the old airport, Abu Hamdan and Al Sudaiss sites and Sar camp in Najran, military force confirms.
Katyusha missiles also hit Al Hamad fort, while the Yemeni artillery targeted Al Ash site and Alib's command with a number shells.
Earlier today, several Saudi soldiers have been killed or injured following violent clashes ending with the Yemeni forces gaining control of two new Saudi sites north of Shabakah, Najran.
These military operations function as a response to the constant war crimes committed by the US-backed Saudi coalition against Yemeni civilians.