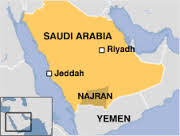 Yemeni Missiles Hit Saudi Military Sites in Najran
Najran | November 22 | Yamanyoon
The missile force of the Yemeni army and popular committees launched several Katyusha missiles today targeting Saudi military sites in Najran.
Yemeni forces successfully aimed at sites and groupings of Saudi soldiers using Katyusha missiles in southern Qwa Najran and Sudaiss sites, military source confirms.
In the same context, Yemeni missile forces launched Katyusha missiles yesterday on Al Hamad fort, while the artillery force targeted Al Ash site and Alib's command with artillery shells.